Contact Us
Enfield Southgate Conservative Association
1 Chaseville Parade
Chaseville Park Rd
London N21 1PG
T: 020 8364 2194
Burrowes stands up for Chase Farm Hospital in Parliament
Wednesday, 10 March 2010 00:00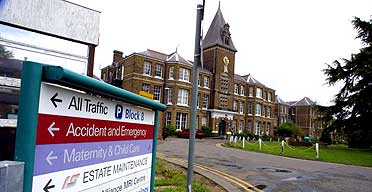 Recently in Parliament Enfield Southgate MP David Burrowes condemned the Labour Government's decision to downgrade emergency and maternity services at Chase Farm Hospital.
David Burrowes said: "My constituents are asking why, given all the money that is going into the health service and given the rising demand, we are reducing access to accident and emergency services while increasing management of contracts and increasing waste. They want a new financial model and a new clinical model that would ensure we look at the position again."
The debate was to consider a Conservative motion calling for a halt to the hospital reconfigurations. Both local Labour MPs, Joan Ryan and Andy Love, failed to support the motion.
David Burrowes concluded his speech by saying: "The choice is clear: people can support Labour if they want the status quo  - a continued hospital downgrade -or they can support the Conservatives if they want the security of change that is based on local and clinical need."